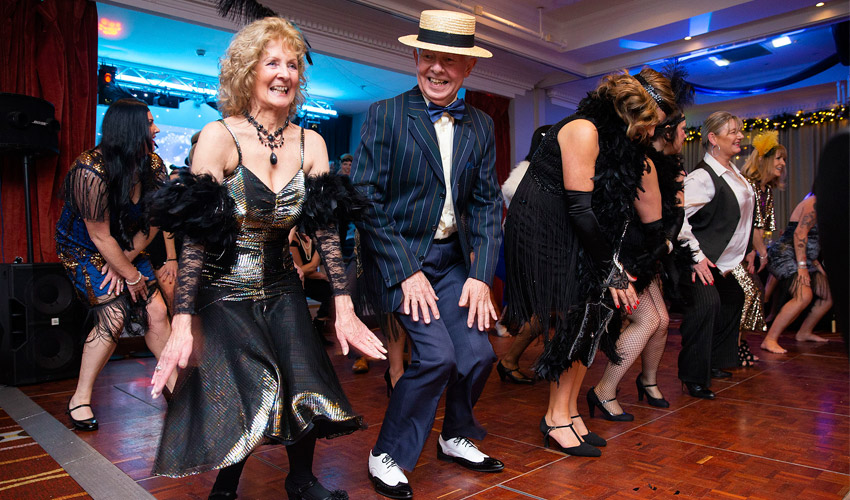 What's on: your guide to The Brain Charity's 2022 events and charity challenges
There's something for everyone in our biggest and best year of Liverpool charity events yet
Every year The Brain Charity runs events to bring our community together and raise much-needed funds for the 1 in 6 people with neurological conditions.
For 2022 we are upping the ante and bringing you our biggest and best year of Liverpool charity events yet.
Whether you are interested in taking on an adrenaline-fuelled challenge to support us, finding out more about how The Brain Charity can help you and your family, or attending a glittering black tie ball – there is something for everyone.
We look forward to seeing you there!
---
Stroll and Roll: Wirral Coastal Walk
Sunday 22nd May, 8.30am – 4pm

Throughout May, The Brain Charity's Stroll and Roll challenge asks fundraisers to run, walk, cycle, wheel or roll 60km in a month.
Travel 60km in May whichever way you can to support the 1 in 6 people living with neurological conditions. Fundraisers can take part virtually from anywhere in the UK. Click here to sign up now.
As part of the challenge, all participants will receive free entry into the Wirral Coastal Walk on Sunday 22nd May if they would like to attend.
The fully-accessible walk starts at the Floral Pavilion in New Brighton, Merseyside with optional lengths of 4, 8 or 12.5 miles (6, 13 or 20km). Click here for more details on the route.
Clients and volunteers are also welcome to join us for the Wirral Coastal Walk without completing the full Stroll and Roll challenge.
---
Volunteer Barbeque
Friday 10th June, 6.30pm – 9pm

Without the tireless work of The Brain Charity's volunteers, it would be impossible to provide the high level of service we do.
Therefore, we take great care to celebrate all the hard work of our volunteers every June as part of Volunteers' Week.
Taking place on Friday 10th June at 6.30pm at The Brain Charity's centre, this is a volunteer-only event.
If you are a Brain Charity volunteer, please click here to register your attendance.
---
Midsummer Burns Night and Liverpool Poetry Prize
Friday 24th June, 7pm – 11pm

Burns Night – in June? Yes, it's true – The Brain Charity is taking Burns Night back to its roots with a summer celebration of the life and poetry of Scotland's most famous poet Robert Burns.
Burns Night is traditionally marked on and around January 25th, the Scottish bard's birthday. But our original event was postponed due to COVID-19 – and research suggests the original Burns Night was actually held in the summer of 1801.
Our midsummer gathering on Friday 24th June will feature a recital of Address to a Haggis, piped in by a Scottish pipe band, and whisky toast.
It will also feature performances from the winners and highly commended entrants of the inaugural Liverpool Poetry Prize.
Tickets cost just £7.50 and include a traditional Burns Night Supper (vegan option available). Please wear something tartan! Click here to buy your ticket now.
---
Liverpool Chester Liverpool Bike Ride
Sunday 3rd July, 7am onwards

The historic Liverpool Chester Liverpool Bike Ride has been running for nearly 30 years – and with good reason.
This year, the much-anticipated annual event will offer cycling fanatics and newbie cyclists alike the chance to take part in one of 8 different routes across Liverpool, Wirral and Chester – ranging from 5 miles to 100 miles.
This one-of-a-kind non-competitive experience on Sunday 3rd July is suitable for all ages and abilities and gives riders the chance to cross the Mersey as you cycle through a traffic-free Queensway tunnel to Birkenhead.
The Brain Charity has free places for the LCL Bike Ride available for our fundraisers. Complete the form here to sign up now.
---
Tatton Park 300ft Bungee Jump
Saturday 9th and Sunday 10th July, 9am onwards

Embrace the UK's highest regular bungee jump by taking a leap of faith for The Brain Charity at 300ft up.
You'll see Tatton Park's picturesque lake and 1,000 acres of deer park as you hurtle through the air as part of this heart-stopping charity challenge on Saturday 9th and Sunday 10th July.
Sign up for free here to join our daredevil team of fundraisers.
---
Liverpool Cathedral Abseil
Saturday 16th July, 7.30am – 12pm

Are you brave enough to descend 150ft abseiling off one of the UK's most amazing buildings?
We have 10 free places up for grabs for the Liverpool Cathedral Abseil on Saturday 16th July. Join The Brain Charity's team for this daredevil challenge at an iconic Liverpool landmark – the Anglican Cathedral.
The Brain Charity's staff and volunteers will be there to cheer on those who face the daunting height to raise money for people with neurological conditions. Complete this form to join our team now.
---
Ladies Day Race Night
Friday 12th August, 7pm – 10.30pm

They're under starter's orders – and they're off…To The Brain Charity's first Ladies Day Race Night on Friday 12th August.
Yes, it's the glorious twelfth for our runners and riders as we present a full racing programme on our big screen starting at 7pm.
It's a chance to put on your Ladies Day finery and have some wine and canapés on a summer's evening – where the going is guaranteed to be good!
Tickets are priced from £7.50. Click here to buy yours now.
---
'Back to School' Activities Taster Day
Monday 5th September, 11am – 3.30pm

Getting involved in new activities can be intimidating – but they're so beneficial for your brain. The Brain Charity is launching a new 'Back to School' event to give you the chance to sample some of our workshops and classes.
Join us on Monday 5th September to sample some of the activities that we already offer, and some that we'll be trialling.
The fun starts at 11am at our centre in Liverpool. This totally free event is perfect for your first time visit to The Brain Charity, or for seasoned community members to meet new people. Click here to register your attendance now.
---
Halloween Quiz
Friday 28th October, 7pm – 10.30pm

Join us on Friday 28th October for our spooktacular Halloween Quiz Night! Our fiendish quizmaster will be exorcising your knowledge with a ghoulish array of ghastly questions – and ensuring there's no trick or cheating.
There will be fun for all the family with a children's disco, as well as food on offer to keep the spectre of hunger at bay.
Think you've got a ghost of a chance? You can take part in person on the fright night or get into the spirit online from 7pm!
Tickets are priced £7.50 for those attending in person and £4 for children. For those attending remotely, tickets are £5. Click here to buy tickets now.
---
The Brain Charity's Ice Ball
Friday 2nd December, 7pm – 1am

The Brain Charity's 10th anniversary ball will be the coolest yet! This year Liverpool's best black tie Christmas event has an ice-cold theme. Join us at the Crowne Plaza Hotel in Liverpool city centre on Friday, 2nd December from 7pm until late.
You can expect delicious food and drink, musical entertainment from our celebrity special guest, Eurovision star Sonia and an unforgettable celebration.
All much-needed funds raised at this spectacular Merseyside Christmas party fund our front-line services, so we can help more people with neurological conditions than ever before. Click here to buy tickets now.
---
Liverpool Santa Dash
Sunday 4th December, 9.30am onwards

Whether you're a red or a blue, there's space for you at Liverpool's legendary Santa Dash.
This festive 5km fun run is the UK's biggest and longest-running Santa Run – bagging a Guinness World Record for the Biggest Santa Gathering in 2005.
Lace up your trainers and take off from the starting line at Pier Head in front of Liverpool's famous Liver Building. The route passes through the city centre, taking in the Royal Albert Dock and finishing in front of Liverpool Town Hall under a flurry of snow.
This feel-good charity run is suitable for all the family and not to be missed – receive free entry and a free Santa suit when you sign up as a fundraiser with The Brain Charity today.
---
Christmas Film Night
Friday 9th December, 6pm – 8.30pm

Back by popular demand, The Brain Charity's Christmas Film Night promises to be a cinematic moment of calm amongst the chaos of the festive season. Come along to see whether we are watching a Christmas classic or modern masterpiece.
Join us on Friday 9th December at The Brain Charity on Norton Street. Tickets are just £3.50 – click here to buy yours now.
---
Carols by Candlelight
Wednesday 14th December, 7pm – 8.15pm

The Brain Charity's Carols by Candlelight service takes place each year in one of Liverpool's most stunning churches – St Francis Xavier on Salisbury Street.
The Brain Charity Choir will perform classic hymns at this peaceful Merseyside carol concert, alongside sets from some exciting special guest performers.
Don't worry if you've forgotten to buy Christmas cards, as we'll have a stall with a range of The Brain Charity's own festive selection too.
We'll see you there on Wednesday 14th December. Click here to buy your £5 ticket today.
---
Volunteer Christmas Party
Friday 16th December, 11am -3pm

The Brain Charity's dedicated team of volunteers aren't just giving for one season, but all year round.
On Friday 16th December we'll be taking this chance to celebrate their hard work with a Christmas meal and some fun activities.
Further details will be circulated to all registered Brain Charity volunteers in November 2022. Please click here to register your interest.
---
If you have any questions about The Brain Charity's events, please email events@thebraincharity.org.uk. You can also click here to check out our other popular fundraising challenge events. Sign up for any of our regular workshops and activities via our website calendar here.