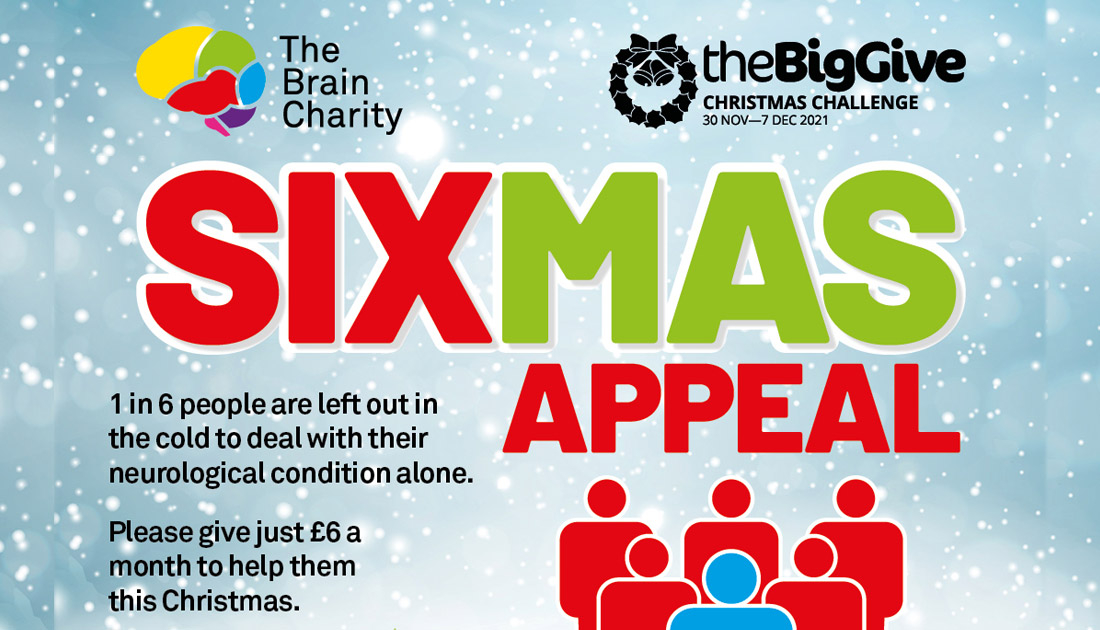 All donations doubled during first week of The Brain Charity's Sixmas appeal
Your one donation can have twice the impact - without it costing you a penny more
The Brain Charity has launched an urgent call for support as all donations made during the first week of our Sixmas appeal will be doubled.
Funds donated to The Brain Charity between 12pm on Tuesday, November 30th (Giving Tuesday) and 12pm on December 7th will be doubled. That means if you donate £10, we will receive £20 – and it won't cost you a penny more.
This means your Christmas gift to The Brain Charity's Sixmas appeal – which is aiming to raise £60,000 for vital mental health support – will go twice as far. One donation – twice the impact.
1 in 6 people are left out in the cold to deal with their condition alone
Having a neurological condition means you are twice as likely to have depression or anxiety. You are also twice as likely to take your own life.
Even before the pandemic, more than half our clients regularly felt lonely. Since COVID-19, the number of people coming to The Brain Charity's counselling service at the point of suicidal thoughts has shot up by 50%.
Demand for our services is at an unprecedented, all-time high. Waiting lists are lengthening at a time more people than ever urgently need our help.

We desperately need more funds to increase how many clients our counsellors and befrienders, a vital lifeline for hundreds, can see each week.
Help make this a reality for people like Sonya and Sophia, pictured above, with your generosity and support. Click here to read more about the appeal.
How donations are doubled
We are thrilled to have been selected to take part in The Big Give Christmas Challenge – the UK's largest match-funding campaign.
Your donation will be doubled thanks to pledges made by our supporters and match funding from The Reed Foundation.
After the donation doubling ends, you can still donate to The Brain Charity's Sixmas appeal via this link.