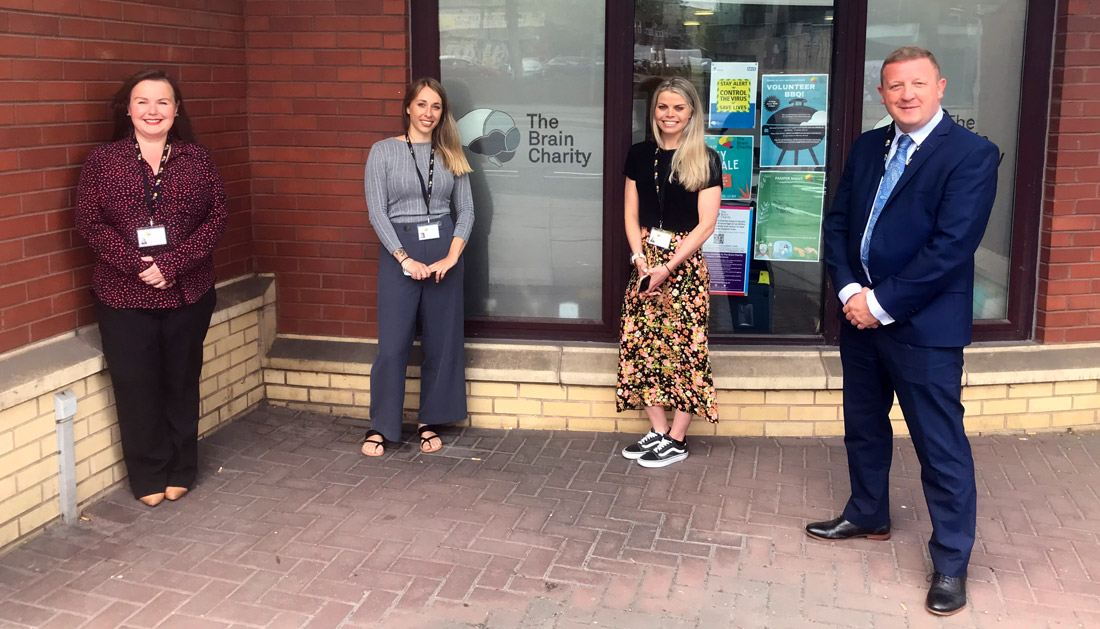 Looking for work? Meet The Brain Charity's new Employment and Welfare Projects team
Supporting people looking to get back into work, education or training
The Brain Charity now has a brand new Employment and Welfare Projects team.
Together, they will help our clients find work, access training and further education opportunities, develop skills and build self-confidence. The team is (L-R in the picture above):
Mandy Morrow – Confidence Coach
Mandy will work one-to-one with clients to build self-esteem and confidence which may have taken a knock. Her tailored sessions recognise every client is unique in their needs, and each journey is individual. Mandy will also be running group sessions on empowerment, mindfulness and self-help.
Anna Quintal – Employer Relationships Officer
Anna will build relationships with employers across the Liverpool City Region to show them the talent within our community. She will meet with employers to evaluate their positions, matching them to the aspirations of clients and offer employers advice on recruitment.
Rhian Beckett – Projects Manager
Rhian is the team manager. She is responsible for the success of the employment projects the team deliver. She will also manage in-house adult learning, welfare law services offered by partners and other employment projects such as Kickstart.
Scott Black – Employment Officer
Scott will coordinate the European Social Fund projects the team runs, Directions and New Horizons. Day-to-day, he will work closely with clients looking for a job or change career. He will offer skill and CV workshops, interview preparation and mentoring to help clients find their next opportunity.

The team is also joined by Welfare Benefits and Employment Law Officer Danielle Bunning, who will work across the organisation supporting our clients, staff and partners on employment law, legal rights and requirements, and part-time Employment Officer Sophia Cotter.
Rhian said: "It's a really exciting time for our team.

"We are all new to The Brain Charity and bring a diverse and experienced skillset, with the team having worked helping people with a range of needs for decades.

"Our aim is to provide a holistic, person-centred approach, working with clients and employers alike to create a more diverse, happy and fulfilled workforce.

"We want to do all that we can to support The Brain Charity's clients to realise their full potential as, often, finding employment or the journey towards employment can be daunting.

"Clients can be met with complex barriers and in some cases, discrimination."
Are you unemployed and looking to change your situation? Or are you having issues in your current workplace which you believe are a result of your condition?
Do you need help with confidence and building yourself back up? Or are you looking to improve your CV and practice interview techniques?
Contact our friendly, approachable team today by email, or sign up online here.