Read the words on this drawing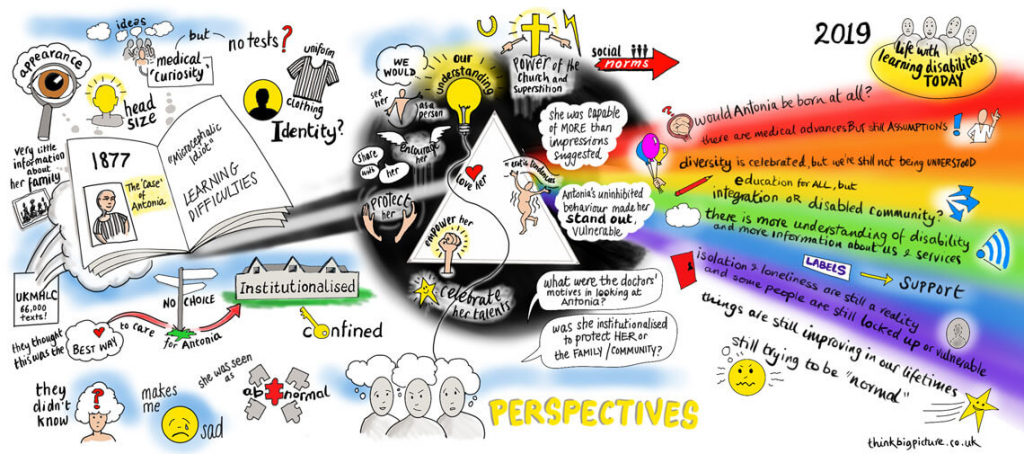 This drawing shows how things have changed between 1877 and today. 
The left hand side begins in 1877 and contains the following words:
Appearance
Head size
Medical curiosity but no tests
Uniform clothing
Identity?
Very little information about her family.
1877 The 'case' of Antonia
"Microcephalic Idiot"
Learning difficulties
UKMHLC 66,000 texts!
They thought this was the BEST WAY to care for Antonia.
Institutionalised.
Confined
No choice
They didn't know
She was seen as abnormal.
Makes me sad
The middle section is a prism showing different perspectives:
Our understanding
We would… see her as a person
Encourage her
Share with her
Protect her
Love her
Empower her
Celebrate her talents
Erotic tendencies
Power of the Church and superstition
Social norms
She was capable of more than impressions suggested
Antonia's uninhibited behaviour made her stand out, vulnerable.
What were the doctors' motives in looking at Antonia?
Was she institutionalised to protect HER or the family / community?
The right hand side offers our view from 2019 and reads:
Life with learning disabilities today
Would Antonia be born at all?
There are medical advancements but still assumptions!
Diversity is celebrated, but we're still not being understood.
Education for all, but integration or disabled community?
There is more understanding of disability and more information about us & services.
Labels – Support
Isolation & loneliness are still a reality and some people are still locked up or vulnerable
Things are still improving in our lifetimes still trying to be "normal".