Donate online now
At The Brain Charity, we help people pick up the pieces so they can rebuild their lives.
Each year we help thousands of people from all over the UK. Please donate today.
How your donation to The Brain Charity makes a difference
£3 gives someone whose life has changed irrevocably, like Sarah, the chance to speak to people diagnosed with the same condition at one of our fortnightly coffee mornings.
£5 allows someone feeling alone in their recovery, like Rachel, to attend one of our weekly classes, workshops and social activities (online & in our centre).
£10 funds a lifeline weekly phone befriending call for someone isolated and lonely, like Stephen.
£50 will cover two life-changing one-to-one counselling sessions for a person who is struggling with their mental health, like Marie.
£100 provides two hours of hospital-based information and advice so we can be there for patients like Ian as soon as they are admitted.
At least 83p in every £1 donated directly funds our front line services.
Donate by post
It couldn't be simpler to pop a cheque or postal order in the mail.
Donate by post
Payroll giving
It allows UK taxpayers to give to us regularly, on a tax free basis.
Payroll giving
Become a fundraiser
Why not take on a fundraising challenge for The Brain Charity?
Sign up as a fundraiser
Come along to one of our fundraising events
Burns Night Supper
Join us to celebrate the life and poetry of Robert Burns and hear the winners of the inaugural Liverpool Poetry Prize perform.
View event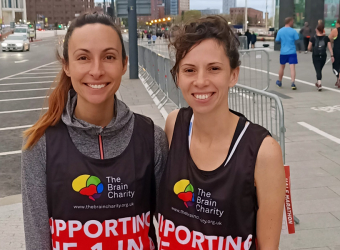 Information
Find a challenge
Sign up to a marathon, bike ride, Tough Mudder, run or other challenge event for The Brain Charity.
Read more