The Brain Food Café
Opening hours
The Brain Food Café is currently open Monday – Friday, 10.30am – 2.30pm. Lunch is served from 12 noon.

Where we are
The café is based inside The Brain Charity's building in Norton Street, Liverpool.
We are a short walk from Liverpool Lime Street train station, are close to numerous bus routes and have free on-site parking for anyone with a disability or mobility issues. Click here for more information about getting to The Brain Charity.
Super foods for the brain
At The Brain Charity, we've been helping people with neurological conditions live healthier lives for nearly 30 years.
Now, you can get your brain food fix at The Brain Food Café! This unique place to eat in Liverpool city centre serves up a range of wholesome meals incorporating superfood ingredients essential to brain health, like leafy greens, berries, oily fish and nuts.

Currently, our menu includes delicious specials packed with essential vitamins, minerals and fatty acids and each incorporating at least 3 of your 5-a-day. Nutritious lunch classics like sandwiches, toasties, soups, salads, baked potatoes, pies and quiches are also available.
We also serve teas and coffees, cold drinks and snacks. There are always vegan, vegetarian and gluten-free options available and we will do our best to cater to all dietary requirements.
A warm and welcoming atmosphere
The Brain Food Café is the central hub of The Brain Charity's centre, and a focal point for our close community.

Many clients visiting The Brain Charity to access our other services enjoy spending time in the café, which is also fully open to the general public. Others volunteer here as a way to develop new skills and gain confidence.
You can be sure of a warm welcome and friendly atmosphere when you visit this Merseyside café.
Accessibility
Our centre is fully accessible and has accessible toilets, including a Changing Places facility. The café's tables are wheelchair user-friendly and our staff are happy to bring your order to your table.
Booking a table
There's no need to book a table, but if you would like to make a reservation, please fill in the form below.
Online bookings must be made before 3pm on the previous working day. If you're looking to make a same day reservation, please ring 0151 298 2999 to ensure your request is seen.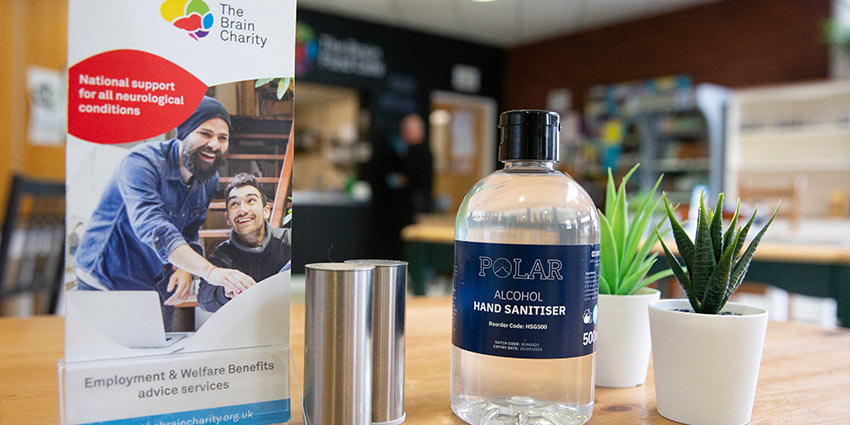 Covid-19
Diners can sit at their own tables, spaced at least one metre away from other guests if they would prefer. Hand sanitiser is provided upon arrival and you can check in at The Brain Charity using the NHS Track and Trace app.
The Brain Food Café has been certified as Covid-safe following independent inspections by Foursquare Group and Visit England.
Feedback
Our café staff are dedicated to taking on customer feedback.
If you have suggestions for recipes we could try, or ways we could improve, we would love to hear them.
Click here to fill in our feedback form.