Covid-safe meeting room hire in Liverpool
The Brain Charity has a range of Covid-safe meeting, conference and training rooms available to hire in Liverpool.
By booking our spaces, you are directly supporting our vital work helping people affected by neurological conditions live longer, healthier, happier lives.

Coronavirus safety is our top priority
With the UK reopening for business post-pandemic, safety is still the number one priority. While Zoom and Teams meetings may have become the new normal, there's no substitute for face to face contact.
Our bright, airy and fully disability friendly rooms for hire in Liverpool city centre can be laid out in a variety of ways, all adhering to Government social distancing guidelines with attendees at least one metre apart.
We follow stringent coronavirus health and safety standards including deep cleaning before and after each booking. Hand sanitiser is provided upon arrival and you can check in at The Brain Charity using the NHS Track and Trace app.
Our site has been certified as Covid-safe following independent inspections by Foursquare Group and Visit England.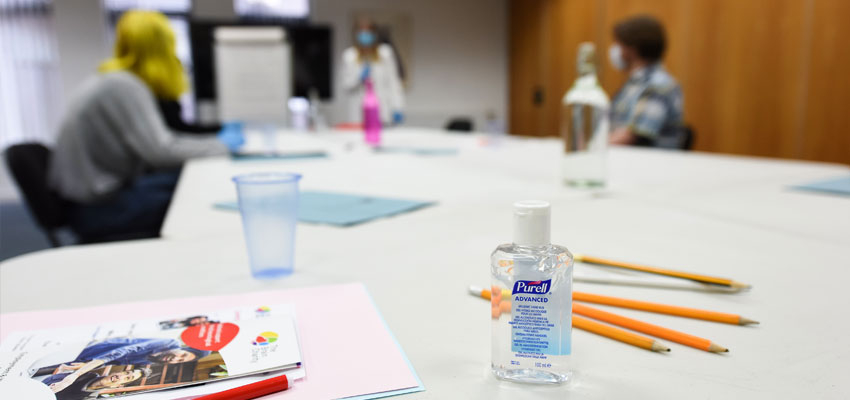 A fully accessible, disability-friendly space – with no hidden costs
Our cheap room hire rates include no hidden costs and the three ground floor spaces all come with high-speed WiFi, ultra-HD Smart-TVs for video conferencing, flipchart stands and whiteboards.
Our meeting room also comes with a SMART interactive whiteboard while the seminar room and lounge have an infra-red hearing loop and built-in PA system. Lecterns, projectors and pens are also available and we will assist with IT setup too where required.
The spacious open foyer of our Merseyside headquarters allows for social distancing during coffee breaks and lunch and our in-house catering and café facilities also conform to the highest covid-19 safety standards.

Upstairs, we also have a small counselling room suitable for socially distanced one-to-one meetings. All our rooms can be cleared of chairs and tables for rehearsals and exercise classes if required.
Where are we?
The Brain Charity is located on Norton Street in the Fabric District area of central Liverpool, UK.
Just a five minute walk from Lime Street train station and on many major bus routes, the Brain Charity's rooms are not just the ethical corporate choice but a fully covid-safe option too. Find directions to our building here.
We have been providing affordable rooms to public, private and voluntary sector organisations for more than 20 years and pride ourselves on our warm and welcoming atmosphere.
Get in touch
To make a booking, call The Brain Charity on 0151 298 2999, email meetings@thebraincharity.org.uk or fill in the enquiry form below.
We look forward to welcoming you soon!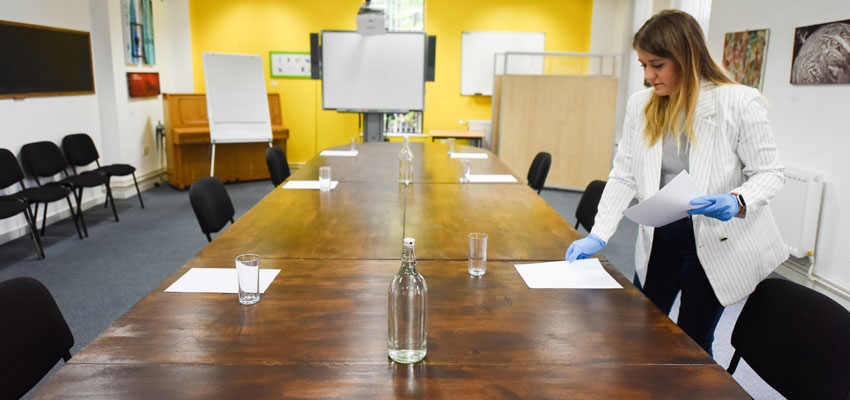 Rooms and layouts
All maximum room capacities take into account minimum 'one metre plus' social distancing, but rooms can be laid out to allow for two metre spacing if you would prefer.
Boardroom

Theatre

U‑Shape

Classroom

Other


The Meeting Room

(10.70m x 6.25m x 2.75m)

20

16 (1m+)

10 (2m)

40

26 (1m+)

12 (2m)

30

18 (1m+)

12 (2m)

20

14 (1m+)

8 (2m)

Please contact us to

discuss your requirements

The Seminar Room

(7.10m x 9.75m x 2.75m)

20

12 (1m+)

10 (2m)

50

22 (1m+)

11 (2m)

30

18 (1m+)

14 (2m)

20

18 (1m+)

10 (2m)

Please contact us to

discuss your requirements

The Lounge

(4.60m x 9.75m x 2.75m)

12

12 (1m+)

6 (2m)

20

16 (1m+)

8 (2m)

20

14 (1m+)

7 (2m)

10

10 (1m+)

6 (2m)

Please contact us to

discuss your requirements

The Seminar and Lounge

(11.70m x 9.75m x 2.75m)

30

20 (1m+)

10 (2m)

85

30 (1m+)

18 (2m)

45

28 (1m+)

14 (2m)

50

24 (1m+)

14 (2m)

Please contact us to

discuss your requirements
Prices
Day prices cover use of the rooms from 9am until 5pm and half days are 9am until 1pm or 1pm until 5pm. Evening bookings are any time from 5pm onwards. All prices are calculated by room size, regardless of the number of people using the space.
We offer a 40% discount to any registered charities with a turnover of less than £1 million.

Room

Weekday Prices
Weekend/Evening Prices
Day
Half Day
Day
Half Day
The Meeting Room
£149
£85.50
£186.25
£106.88
The Seminar Room
£175
£95
£218.75
£118.75
The Lounge
£127
£74
£158.75
£92.50
The Seminar and Lounge
£280
£153
£350
£191.25
All 3 Rooms
£435
£243
£543.75
£303.75
Counselling Room
£12 per hour
£15 per hour
An introduction to room hire at The Brain Charity