Neurological conditions can have a wide-ranging effect on both your physical and mental health. If you have a neurological condition, you are more likely to have a mental illness too.
Carers are also more likely to struggle with their mental health.
At The Brain Charity, we work with a wide range of issues affecting mental health, including anxiety, depression, PTSD, phobias and bereavement.
Speak to someone in confidence
The Brain Charity offers free eight-week counselling courses to anyone with a neurological condition, as well as their carers, family members and friends.
Our trained counsellors understand the issues people with neurological conditions may experience, and the strains on carers too.
They offer a range of psychotherapies, including CBT, person-centred and integrated.
Your counsellor will work with you as an individual to meet your needs and provide a safe space where you can talk about your problems and feelings.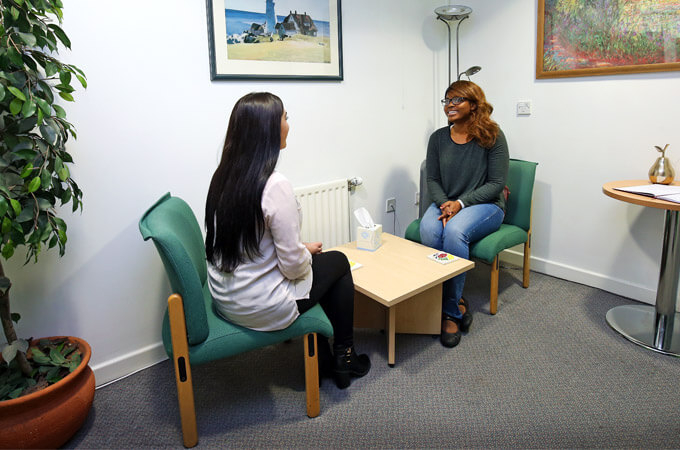 Everything you say during a counselling session will remain confidential. As well as one-to-one counselling, we work with couples and families, and provide group therapy.
Counselling appointments are scheduled between 9am and 5pm, Monday to Friday and can take place in our centre in Liverpool, via video call or over the phone.
"Putting myself forward for counselling was something I never ever thought I would do, but my counsellor was so easy to talk with"

– Brenda
Feeling lonely?
If you're feeling lonely and would like someone to talk to, The Brain Charity also runs a phone befriending service. One of our friendly volunteers can call you each week for a chat to make sure you aren't left on your own.
Or, why not pop into our centre? The Brain Food Café is open every week day and our regular social activities are a great way to meet new people.
We can help you build your confidence too
If you are taking part in The Brain Charity's employment scheme, you will also have access to free coaching to help you boost your confidence and self-esteem.
Find out more about how to sign up to the project by clicking here.
Contact us
If you're feeling low, reach out for help by filling out the form below.
Demand for The Brain Charity's counselling service is currently extremely high, so waiting times for an initial telephone assessment can vary. We make every effort to respond to your enquiry as soon as we can.