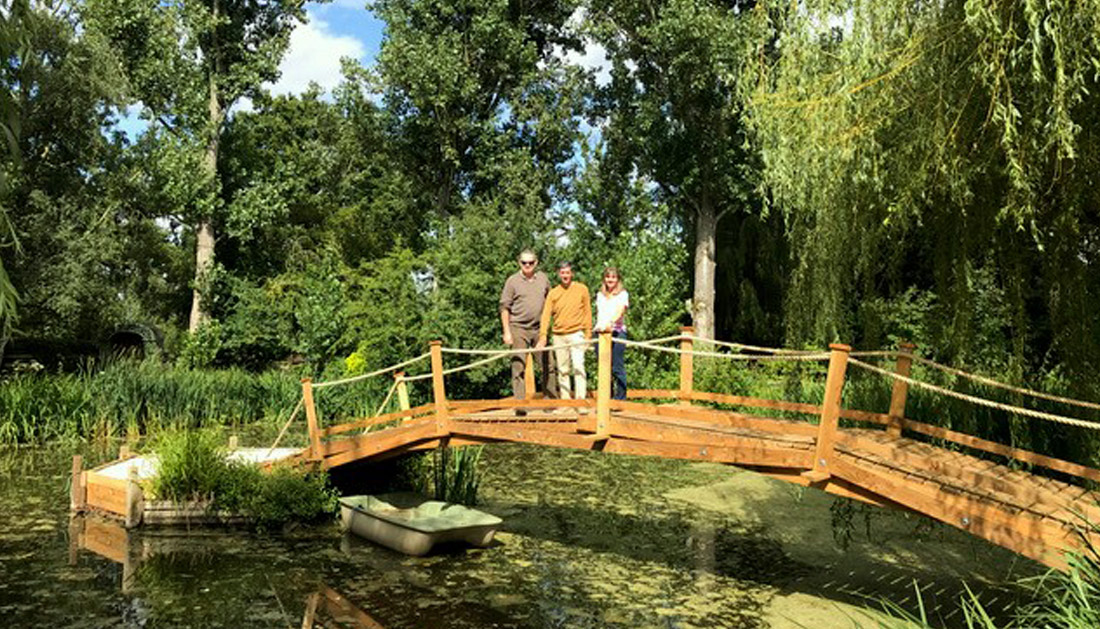 DIY novice builds 50ft bridge across garden pond in lockdown to raise thousands for The Brain Charity
Steve George raised more than £10,000 by completing the five-month challenge
A self-confessed DIY novice built a 50ft bridge across a pond in his garden during lockdown – raising thousands of pounds for The Brain Charity in the process.
Steve George, 65, spent five months building the three-arch bridge from 1,600ft of Douglas fir to keep himself busy as a pandemic challenge.
Helped by his wife's cousin Simon and Simon's wife Vanessa, the dad-of-five bought a Canadian-designed bridge plan online and completed the build in July 2020.
The wooden structure has now allowed Steve and his family to access a small island in a pond in their front garden near Aylesbury, Bucks, that they had previously only been able to get to by rowing boat.
Steve officially opened the bridge with a garden celebration for dozens of guests in September, with all proceeds from the event going to The Brain Charity.
In total, the retired chief exec raised more than £10,000 for our cause – earning himself the title of Fundraiser of the Year at The Brain Charity awards held in November.

Steve said: "We have only ever been able to get to the little island in the pond by boat, and at various times while our five kids were growing up there was talk of a bridge.

"The successive lockdowns provided the opportunity to do things 'at home'.

"I felt I needed a lockdown challenge, so one day in October last year decided I would build a bridge.

"This is despite not being a big DIY person, and having no background in engineering or woodwork.

"But I have always enjoyed starting or finishing projects, so building the bridge, while completely outside my comfort zone, just seemed right.

"It required cutting wood at incredibly precise angles and was quite a fascinating process, because we had to work out how to get the bridge across the 50ft span of water too.

"We gradually stuck at it and it took shape. It was really good fun and a test for all of us – although those who know me well were very surprised I managed to build it!

"Without Simon and Vanessa, it would either not have been built or I would still be building it."

Steve chose to support The Brain Charity because he was diagnosed with a brain aneurysm early in 2020.
He also wanted to remember four friends and relatives who all recently passed away from brain-related illnesses, as well as supporting a couple whose 10-month-old son is bravely fighting a brain tumour.
Keen cricketer and golfer Steve added: "It will be a celebration of lives well-lived and the completion of a bridge, which whilst not as grand as the Millennium Bridge, shares some characteristics and is nevertheless a small feat of engineering.

"Choosing The Brain Charity as the recipient of our fundraising efforts enabled us to focus not just on me, but on many other close friends who have suffered from brain-related illnesses.

"People have been very kind, both in terms of their financial generosity and their generosity of spirit.

"We have had some great comments, even likening it to Monet's bridge.

"But the reaction I treasure most was from my wife, who expressed her surprise and delight with the finished edifice."
The 'rainbow bridge' design is made up of three parallel arches, each comprised of more than 328ft of wood and weighing three quarters of a tonne.

Steve, Simon and Vanessa constructed each arch independently, and built a temporary wooden platform across the water so they could lift and carry each arch into concrete footings.
Tui Benjamin, Head of Fundraising at The Brain Charity, said: "All our dedicated fundraisers hold special places in our heart, but we have certainly never had anyone open a bridge in our honour before! We are delighted Steve has chosen to support The Brain Charity in celebration of such a tremendous lockdown project.

"His dedication, even in the face of receiving difficult news about his own brain aneurysm, is remarkable and he has created something truly unique which he and his family can treasure for years to come.

"Steve's generous fundraising will make a huge difference to the lives of so many people affected by brain aneurysms, tumours and other neurological conditions, and we are immensely grateful."
To donate to Steve's bridge opening, click here. You can also click here to become a fundraiser for The Brain Charity.