Donate in celebration
Donate to The Brain Charity to mark a special occasion and ensure your milestone has a lasting impact on the lives of people with neurological conditions.
Whether a birthday, wedding or anniversary, a celebratory donation or fundraising event is a way to honour a loved one who can't be there, support your community or simply give your guests the feel good factor.
Charity wedding favours
Many couples are now choosing to make a donation to charity as a wedding favour for their guests.
If you would like to do this on your wedding day, we can provide you with Brain Charity pin badges to lay out as table favours, along with some information about our cause.
Alternatively, we can also work with you to come up with something that's as unique as your special day to ensure everyone has a time to remember.
Host your own event
Thinking of hosting your own fundraising event for The Brain Charity to mark a special milestone? We've previously had talent shows, afternoon teas, cake sales, sponsored silences and much more held for our cause.
We can provide posters with information about how donations are spent, collection tins and buckets, Gift Aid envelopes and a Brain Charity t-shirt for the organiser to wear.
If you're looking to take on a marathon or other physical challenge event, please click here to sign up as a fundraiser.
Create a Facebook fundraiser
Why not ask your Facebook friends to donate what they would have spent on your birthday or Christmas present to The Brain Charity?
Click here to set up a Facebook fundraiser to mark a special occasion.
Or make a JustGiving page
Alternatively, if you don't use Facebook you can make a JustGiving page so friends and family have an easy way to make a donation to The Brain Charity to mark your celebration.

Set up a JustGiving page now
It's the easiest and quickest way to share your fundraising and collect donations.
You must create a JustGiving account, or login to an existing account if you have one.
Join in with one of The Brain Charity's existing fundraising events
To find out more about the events we have coming up in our fundraising calendar, please click here.
Chat to our fundraising team
If you'd like more information on any of the above, please email fundraising@thebraincharity.org.uk or call 0151 298 2999.
The Brain Charity's fundraising team are also keen to talk to you about any bespoke plans you may have for your celebration event. We're always happy to work with our supporters to come up with something personal, so get in touch if you'd like to discuss a unique idea.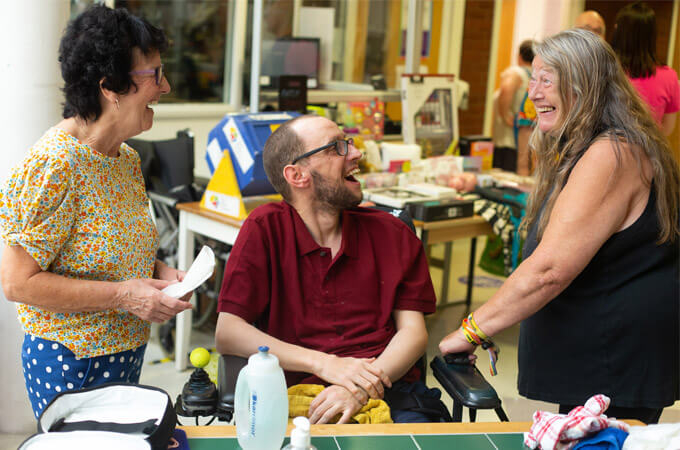 Where your money goes
Learn the impact The Brain Charity's work has on the 1 in 6 people living with neurological conditions.