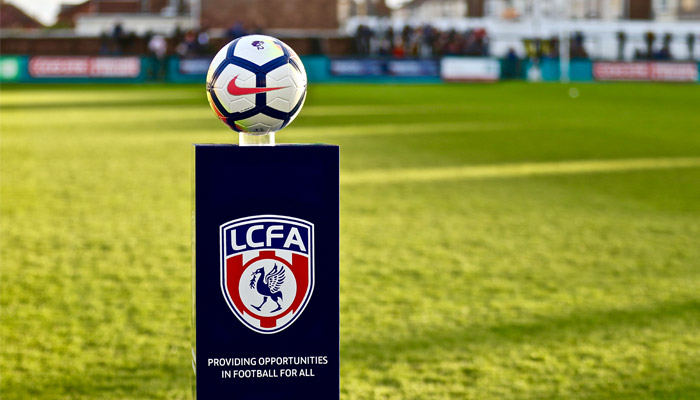 Liverpool County FA announces 2-year partnership with The Brain Charity
We will work with LCFA to increase employment and make clubs more dementia-friendly
Liverpool County FA have announced a new two-year charity partnership agreement with The Brain Charity.
Together, The Brain Charity and LCFA want to ensure more people from the grassroots football community are aware of neurological conditions and the impact they have on family, friends and carers.

Over the next two years, LCFA and The Brain Charity will:
Raise awareness of the more than 600 different neurological conditions in existence and the support The Brain Charity offers;
Raise money to fund The Brain Charity's front line services;
Show how clubs and leagues can be more dementia-friendly by ensuring grounds and facilities are accessible, understanding the difficulties people with dementia encounter to help them enjoy watching football for longer and raising awareness of the signs and symptoms, as well as risks associated with heading;
Enable local grassroots football clubs and Liverpool County FA to refer employees, players, coaches, officials and volunteers with neurological conditions to The Brain Charity's services so they can access the help that they need;
Enable people with neurological conditions across Merseyside the opportunity to engage with football through Liverpool County FA;
Offer Liverpool County FA's employees an opportunity to volunteer in many areas of The Brain Charity's work, particularly as phone befrienders supporting clients affected by loneliness and social isolation;
Give people with neurological conditions an opportunity to gain valuable work experience within the world of sport.

The Brain Charity was appointed as Liverpool County FA's official charity partner following an open application process that began in July 2021 and an employee vote.
Liverpool County FA employees will support and be an active part of the charity partnership, including volunteering throughout the 2021/22 season.
2021/22 County Cup Finals will be dedicated to The Brain Charity and the organisation will be collecting funds across their Finals, as well as employee and external fundraising.
Nanette Mellor, CEO of The Brain Charity, said: "We are honoured to have been selected as Liverpool County FA's inaugural charity of the season.

"We can't wait to get to work delivering a programme of physical activities, awareness campaigns, fundraising appeals and volunteering opportunities in partnership with their staff and wider grassroots network.

"Liverpool County FA's key value of 'Football for All' matches our own wholehearted commitment to fighting for an inclusive society.

"We are excited to improve the health and wellbeing of people with neurological conditions across Merseyside, with their support."

Daniel Green, Liverpool County FA Chief Executive, said: "We were really pleased to present our employees with an excellent range of charities that were committed to using the power of football as a force for good.

"We wanted our teams and staff to have a voice in our charity partner selection, so we gave them an opportunity to vote for the one that they felt personally and professionally passionate about alongside recognising our organisation's values.

"The Brain Charity is a fantastic headline charity partner choice. With early treatment and support, many people with neurological conditions will be able to receive the help they need, as well as their friends, family and carers.

"Together, we hope to make a significant difference across Merseyside."