The Brain Charity has a dedicated and passionate volunteer team. Our volunteers are essential to the success of our organisation and help create our centre's fantastic sense of community.
They have been recognised for their vital work with The Queen's Award for Voluntary Service, the highest award given to volunteer groups in the UK.

Who volunteers at The Brain Charity?
People of all ages and backgrounds volunteer at The Brain Charity.
Some are in recovery from a diagnosis and are looking to rebuild their confidence, often as a first step towards returning to employment.
Others want to meet new people, gain valuable skills and work experience or simply use their expertise to further our cause.
What all our volunteers have in common is their wish to help others and contribute to their community.
Finding a role that's right for you
Volunteers work across all departments of The Brain Charity, from helping our communications team run our social media accounts to assisting our Information and Advice officers with welfare benefits applications.
Other roles include welcoming visitors to our centre as a receptionist, clearing tables and greeting guests in The Brain Food Café and helping organise our library.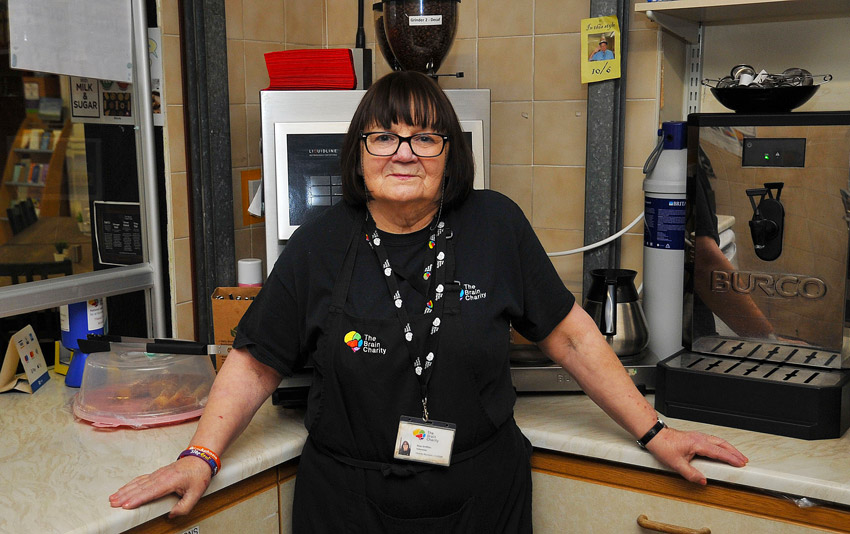 Here are some of the other positions currently available:
Phone befriender
Services assistant
Events and fundraising assistant
Website copywriter
Our volunteering team can work with you to match you to the perfect role based on your skills, what you would like to get out of the position and how much time you have to give. Some positions can even be done from home.
What's next?
We hold regular volunteer recruitment days at our centre in Liverpool.
Please fill out our online form below and one of our team will be in touch to provide more details.
If you need a paper copy, the form in a different format or help completing it, you can email us at volunteering@thebraincharity.org.uk, call reception on 0151 298 2999 or call into our centre in Liverpool.
We welcome applications from all sections of the community. No formal qualifications are required, and you will be given a full induction and training.
Volunteer sign-up form