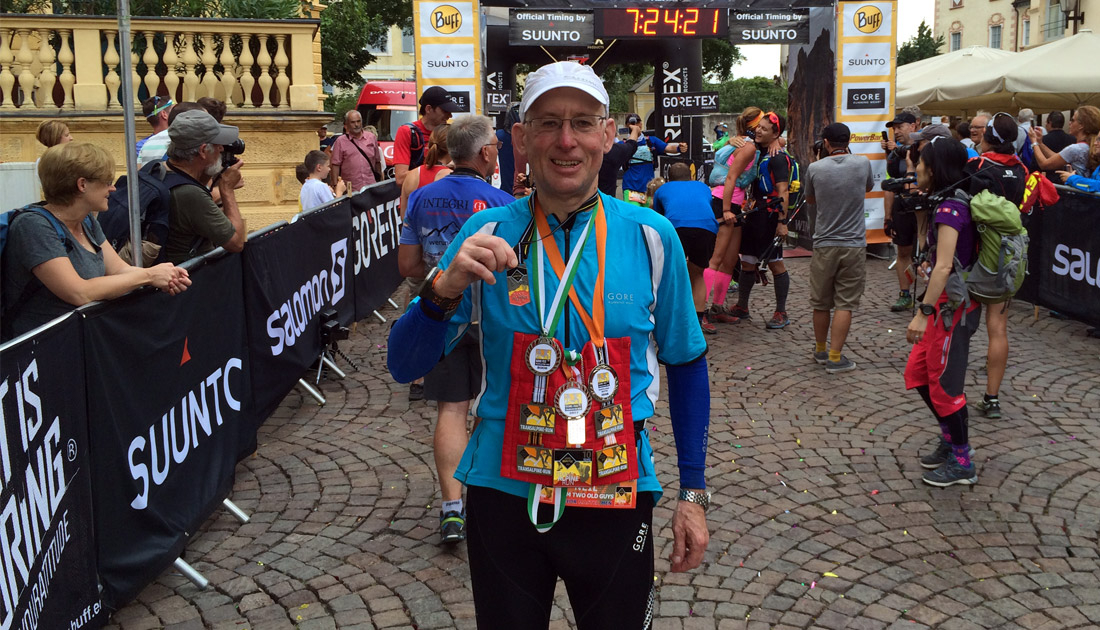 Brain haemorrhage survivor runs eight marathons in eight days for The Brain Charity
Neil defied the odds and has since claimed many Guinness World Records
A near-fatal brain haemorrhage survivor who defied the odds to claim numerous world records has run a gruelling eight marathons in eight days for The Brain Charity.
Dad-of-two Neil Rhodes, 63, has completed more than 17 ultramarathons since he nearly died of a brain haemorrhage in 2003.
The super fit personal trainer was practising on a rowing machine just three days before the World Indoor Rowing Championships when he collapsed and was rushed to hospital.
There, doctors discovered a 'berry' aneurysm in his middle cerebral artery had burst due to a 'ticking time bomb' weakness which had been there since he was born.
Neil underwent an eight-and-a-half-hour operation to save his life, but doctors gave him just a seven per cent chance of survival.
Incredibly, he woke up from a coma a week later with no side effects at all, other than a headache – and was discharged from hospital after 10 more days.
Since then, Neil has been determined to celebrate his recovery by taking on ultra marathons across Europe and even over the North Pole, as well as smashing a number of fitness Guinness World Records.

And this September he completed eight marathons in eight days – a combined total of 189 miles across East and North Yorkshire – in aid of The Brain Charity, which helps people who have had brain haemorrhages rebuild their lives and supports the families of those who do not survive.
Neil, who is originally from North Ferriby in the East Riding, but now lives in Yeovil, Somerset, said: "At the time of my brain haemorrhage I was probably one of the fittest 45-year-olds in the UK.

"I had no risk factors or indication whatsoever of the ticking time bomb inside my body.

"There was no pain, no warning or no memory.

"Most people who suffer such a massive brain haemorrhage either don't survive, or are left with severe brain damage.

"I was incredibly lucky to survive with no side effects whatsoever.

"Doctors told me they had never seen anything like it before and believed my fitness saved my life.

"They said 'whatever you were doing before, go back to it' so I was determined to do just that.

"It seemed only right I use my fitness to help others who haven't been as lucky as I was – and that is why I am supporting The Brain Charity."
Neil began his trek on September 4th, running the 79-mile Yorkshire Wolds Way and the 110-mile Cleveland Way from Hessle in East Yorkshire to Helmsley in North Yorkshire to raise nearly £350 for The Brain Charity.

Despite being a fitness fanatic, before his haemorrhage Neil had never run outside, so after being discharged from hospital, he decided to climb Snowdon.
Determined to keep celebrating his recovery with yet more fitness challenges, Neil bagged a world record just five months after his haemorrhage when he more than doubled the record for the height climbed on a Versaclimber fitness machine in one hour while carrying a 40lb pack.
He discovered a passion for outdoor trekking and three years after leaving hospital took on the Trans-Alpine run, which saw him run 143 miles across four European countries in eight days.

Other challenges Neil has taken on since then include a marathon across the North Pole and setting more Guinness World Records for rowing 1,000,000m on an indoor rowing machine in 8 days, and riding the longest distance on a static indoor cycling bike in 24 hours.
Neil said: "If I can do something that helps people and makes people happy, that's important.

"My brain haemorrhage told me to value the time we have & make the most of it.

"I've known other people who have had brain haemorrhages and survived but been left with lifelong effects.

"I feel incredibly lucky and that is why I have such a positive mental attitude and want to help others. I'll give anything a go."

Tui Benjamin, Head of Fundraising at The Brain Charity, said: "We are honoured Neil is taking on such an impressive challenge for The Brain Charity.

"We see first-hand the devastating impact brain haemorrhage can have, both on the lives of survivors and on the friends and family of those who sadly do not survive, and cannot do what we do without the support of our generous fundraisers.

"Neil's true determination and strength of spirit in overcoming his brain haemorrhage and going on to achieve numerous World Records is an inspiration."