About The Brain Charity
Why we're needed
Our most precious memories, hidden dreams and the thousands of subtle differences that make us who we are, are all housed in one amazing, unique and fascinating place.
The human brain is the most complex structure in the universe, and the most important part of who we are. It runs our whole world, moves our body, makes our decisions and even tells us when to smile.
Unfortunately, the brain is fragile and easily damaged – the effects of which can be devastating.

For someone newly diagnosed with a neurological condition, life can quickly become very lonely and frightening. People lose control of their lives and many face unemployment, poverty and social isolation.
At The Brain Charity, we help anyone affected by a neurological condition to pick up the pieces so they can rebuild their lives and achieve their potential.
What we do
There are more than 600 different conditions affecting the brain, spine or nervous system. These are called neurological conditions.
Many are well-known, such as stroke, brain injury, dementia, cluster headaches and ADHD. There are also hundreds of conditions that only affect an unlucky few, such as trigeminal neuralgia, Alice in Wonderland Syndrome and Huntington's disease.
The Brain Charity is the only charity in the UK to be here for every single one of them.
Each year, we provide practical help, emotional support, and social activities to thousands of people from all over the UK. We support anyone based in the UK who has a neurological condition, and their family, friends, and carers too.
Click here to find out more about the different services we offer. Unfortunately, we do not provide medical advice and can only offer mental health services to people who also have a neurological condition.

Our history
The Brain Charity opened in Liverpool in 1993 out of the recognition there was no support for patients with neurological conditions in the community once they left The Walton Centre, a specialist neurological hospital serving the North West of England.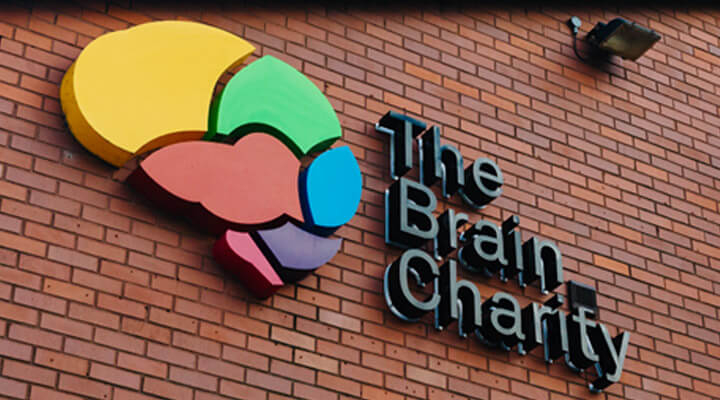 We have since grown to a team of more than 30 members of staff and more than 80 volunteers. We are proud to be able to say more than half of our staff team and at least 60 per cent of our volunteers have lived experience of neurological conditions.
The need for our services has dramatically increased since the COVID-19 pandemic began. This is due to the mental health impact of the lockdowns, increased unemployment and more people being diagnosed with neurological conditions like long COVID.

If you would like more detailed information about The Brain Charity, click the buttons below for copies of our latest Annual Report, Annual Accounts and Reserves Policy.