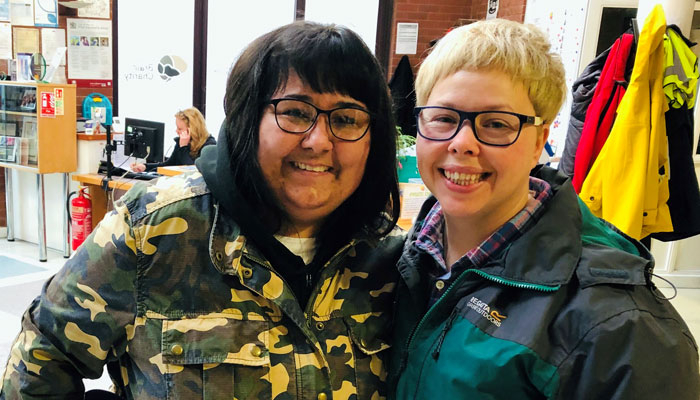 Laura's foreign accent syndrome story: "I stopped leaving the house, but at The Brain Charity I'm accepted"
Laura lives with fibromyalgia, functional neurological disorder (FND) and non-epileptic seizures.
She was also diagnosed with foreign accent syndrome, an unpredictable condition which causes people to sometimes speak with a foreign accent.
Before the pandemic, Laura regularly attended The Brain Charity's craft, computer and photography classes and coffee mornings with her wife Debbie.
Laura said: "My speech is often slurred and I have foreign language syndrome which means I sometimes speak with a foreign accent.

It's very unpredictable and can be embarrassing when I'm out and about or in social situations.

I stopped going out because I was worried about what people would think of me.

Being able to come to a safe environment where everyone understands and doesn't judge me has been a real lifeline, and has helped me to live my life again."
Laura heard about The Brain Charity through one of our volunteers, and first visited one of our monthly coffee mornings to find out what we had to offer.
She said her confidence has improved dramatically since she started regularly coming into The Brain Charity's building.
Laura added: "I'm in constant pain and the FND affects my mobility, but I feel 'normal' when I'm here as everyone is in the same boat and I can just be myself.

I feel accepted for who I am and don't worry what anyone thinks about me."
Laura finds it difficult to travel anywhere by herself as it takes a lot of planning and she needs assistance.
But she said she's happy to be dropped off at The Brain Charity to take part in activities if wife Debbie can't come with her, as she knows that there are people to help who care about her welfare if she gets into difficulties.
Laura said: "I've made some really good friends at The Brain Charity.

We feel part of the family here and I really look forward to coming in each week."