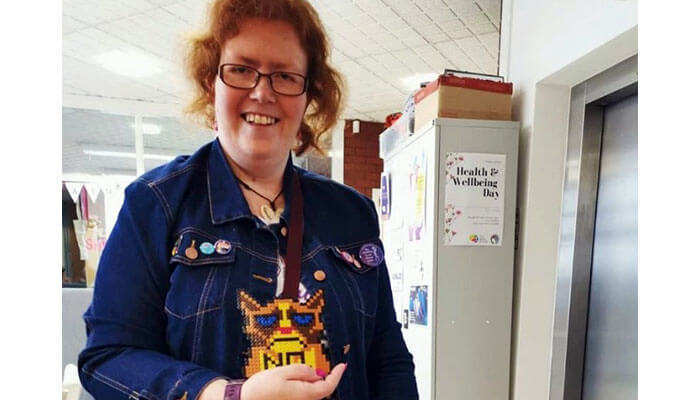 Sarah's stroke story: "I lost friends after a head-on car crash, but I don't feel like an outsider at The Brain Charity"
Sarah had a stroke following a head-on road traffic accident in 2016.
She was left with life-altering injuries that affect her mobility, vision, speech and memory.
This meant Sarah could no longer drive, and she now requires full-time care.
This is provided by her long-term partner and 2 paid carers who work on rotation.
Sarah said: "I read an article about The Brain Charity in The Walton Centre's newsletter in 2017 and I thought it sounded like a good place to go to.

"I came along to try out the craft class, the art class and the choir as a way to start socialising again."
Prior to her accident and stroke, Sarah had an active and challenging lifestyle.
She was training to become a primary school teacher and had been a Brownie leader for more than 17 years.
But after the accident Sarah's confidence took a knock, and she said many of her friends drifted away.
Coming along to The Brain Charity's art & craft club classes, along with being a member of our choir, has helped Sarah to regain her confidence.
She added: "I don't feel like an outsider when I'm at The Brain Charity.

"I feel I can be myself and I don't feel like I'm different. Everyone is very kind and I've made lots of friends."
Sarah has also designed and produced a range of earrings called 'Sarah's Sparkles', which she sells to fundraise for The Brain Charity as a way of giving something back for the help she's received.
She also hopes to get back to helping with activities at her local Brownie group in the near future.