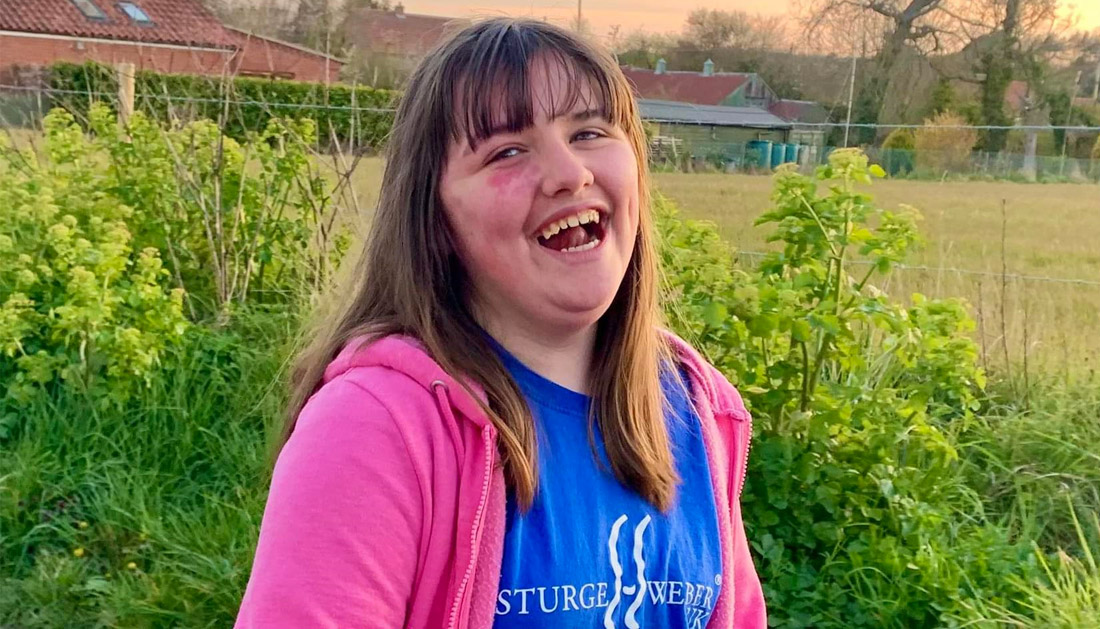 My daughter had surgery to disconnect the right side of her brain – I've never regretted making the choice
Lisa Massingham shares daughter Angelina's journey with Sturge-Weber syndrome and hemispherectomy to mark Rare Disease Day
February 28th marks Rare Disease Day.
The globally-coordinated movement on rare diseases works towards equity in social opportunity, healthcare, and access to diagnosis and therapies for people living with a rare disease.
To mark Rare Disease Day, The Brain Charity spoke to Lisa Massingham. Her daughter Angelina Mills, now 12, was born with a rare neurological condition called Sturge-Weber syndrome (SWS).
What is Sturge-Weber syndrome?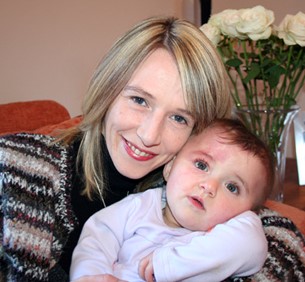 SWS is a rare disorder affecting the skin and nervous system. Babies with SWS are often born with a birthmark on their face known as a port-wine stain, caused by enlarged blood vessels under the skin.
People with SWS also have clusters of abnormal blood vessels between the layers of tissue that cover the brain and spine, known as leptomeningeal angiomas. They may also have increased pressure in the eyes, known as glaucoma.
Other symptoms of SWS may include seizures, muscle weakness, developmental and learning disabilities. Seizures can be difficult to control and, thanks to medical advances in scans and surgery, more children are now able to benefit from neurosurgery to help reduce, and in some cases, stop seizures.
Information on Sturge-Weber syndrome was lacking
Lisa and Angelina's dad Stephen struggled to get an SWS diagnosis, and when they did, they struggled to find information and support.
Lisa said: "It would have taken so much stress from us if we'd had someone to talk to, like the Brain Charity's support workers based at Liverpool Women's Hospital.

"Instead, I had to trawl the internet looking for information. You don't just see positive articles, so it can be a very frightening and lonely time."
Hemispherectomy surgery
When Angelina was 13 months old, she had hemispherectomy surgery to disconnect the right part of her brain, which was causing the seizures.
Lisa said: "I have never regretted making the choice of hemispherectomy surgery for Angelina.

"I lost count of the number of seizures and stroke-like episodes she had when she was a baby, or the number of the times I called 999 for help.

"Angelina had surgery when she was 13 months old, a day I'll never forget, but thankfully now celebrate.

"She will always battle daily with complications caused by this type of surgery, but, importantly, she remains seizure free and has been off all anticonvulsant medication since 2012."
Raising rare disease awareness
Over the years, Lisa has raised awareness in newspapers, magazines and on TV, and has raised thousands of pounds for Great Ormond Street Hospital, where Angelina was treated, and for the Sturge Weber UK charity.
Angelina was even featured in a BBC documentary called 'Inside the Human Body' presented by Michael Mosley.
For almost 10 years, Lisa has been a volunteer fundraising coordinator for Sturge Weber UK, and also runs the charity's online store.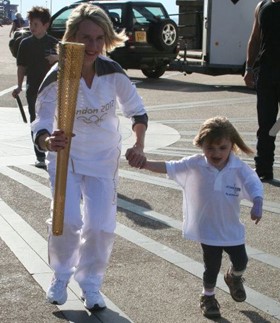 In 2012, Lisa was nominated by another parent of a child with SWS to carry the Olympic Torch through her local area in Norfolk – and was even allowed to keep the torch afterwards!
It was a very proud moment for Lisa and her family, and raised even more awareness of SWS.
Lisa said: "Angelina struggles with social skills and communication due to a recent diagnosis of autism, and she will never regain sight in the left side of both eyes or be able to use her left hand for fine motor skills due to the right side of her brain being affected.

"Despite this, she thrives with determination and doesn't let her disabilities get in her way.

"I am so proud of what she has accomplished and achieved. She has taught me so many things in the last 12 years, and I feel privileged to be her mum."
Click here to find out more about Angelina's story. Rare Disease Day aims to raise awareness and generate change for the 300 million people worldwide living with a rare disease, their families and carers. Find more information on Rare Disease Day here.