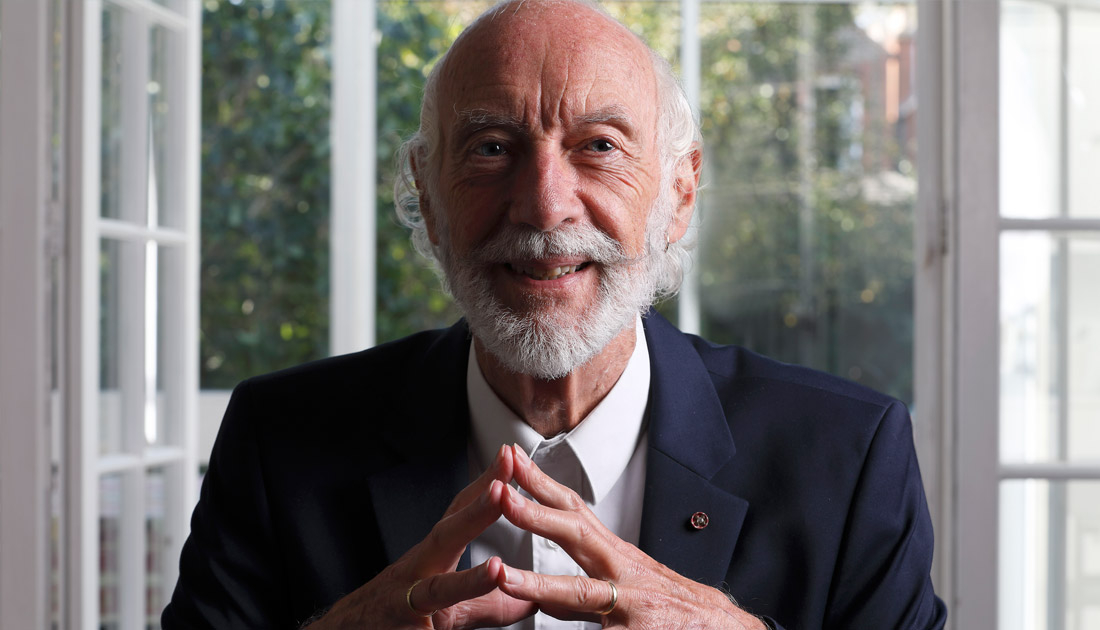 Renowned Liverpool poet Roger McGough to judge inaugural Liverpool Poetry Prize
The contest will amplify the voices of the neurodiverse community
Updated 21/02/2022: The winners of the Liverpool Poetry Prize have now been announced. Please click here to read the winning entries.
Award-winning poet Roger McGough is set to judge the inaugural Liverpool Poetry Prize – with the winning poems performed at The Brain Charity's Burns Night Supper.
The renowned Liverpool poet – hailed by Carol Ann Duffy as 'the patron saint of poetry' – will choose the winners of the new competition, launching today.
The prize has been launched by The Brain Charity to amplify new and contemporary voices, particularly from the neurodiverse community, and encourage creativity, which is beneficial to brain health.
There are two categories; the Open Category, open to anyone writing on any subject, and the Neurodi-Verse Category, for poetry inspired by neurological conditions and/or neurodiversity.
Nanette Mellor, CEO of The Brain Charity, said: "Many neurological conditions can affect the way in which we relate to language – both written, like dyslexia, and spoken, like aphasia.

"Poetry has been a sanctuary to so many people at The Brain Charity.

"It is a place where people can interact with language, both written and spoken, on their own terms.

"We hope the inaugural Liverpool Poetry Prize will amplify new and contemporary voices, and raise awareness of the creative strengths of the neurodiverse community.

"Nurturing the innate creativity we all have within us is deeply beneficial for brain health, encouraging neuroplasticity – the brain's ability to rewire itself.

"We are thrilled Roger is judging our competition, and hope it will be a huge success."


Prizes
The first place poem in each category will receive a trophy. There will be one prize of £1,000 for the overall winner.
There will be five runners up in each category, whose work will be included with the winners in a poetry zine published on The Brain Charity's website.
The winners and runners up will be invited to perform their poems at The Brain Charity's Burns Night Supper.
How to enter
Submissions for the Liverpool Poetry Prize open today (Monday, November 29th) and will close on Friday, December 31st at 11.59pm.
It is free to enter the competition, with a suggested donation of £3 to The Brain Charity for all those able to afford this.
All entrants must be over 18, and can be from anywhere in the UK.
To submit your poem, attach it as a word document or PDF file and email it to poetryprize@thebraincharity.org.uk.
Click here to view and download the full competition rules. We ask you to read these closely, as your submission will be void if they are not adhered to.
Winning poems performed The Brain Charity's Burns Night Supper
The winners will be announced and their poetry performed at The Brain Charity's Midsummer Burns Night Supper, postponed to June 24th.
The event, held at The Brain Charity's centre on Norton Street, Liverpool at 7pm, will mark a celebration of not just the life and poetry of the famous Scottish poet Robert Burns but of our Liverpool Poetry Prize winners too.
Tickets cost £7.50, which includes a traditional Burns Night Supper, recital of Address to a Haggis, whisky toast and music from a Scottish pipe band.
The wearing of something tartan is strongly encouraged.
Click here to get your tickets for this unique Burns Night Supper event in Liverpool.
The Brain Charity's Burns Night Supper is sponsored by Birchall Blackburn Law.
*Photo: Nick Wright Photography