The Brain Charity's Brain Changer Arts Project pairs the skills of a neuro-physiotherapist and a professional dancer to use dance to improve balance, coordination and motor control.
During free workshops, children practise moves based on wide-ranging and high impact physiotherapy exercises.
Dance can reduce stress and increase serotonin levels; a hormone which is linked to wellbeing and happiness.
The classes aim to improve mobility in a safe and fun environment. Sessions run in schools, nurseries and community settings across Merseyside.
All of our experienced workshop leaders are DBS checked and will ensure sessions, whether held face-to-face or online, are run in a safe and professional manner. Parents and carers are welcome to join too.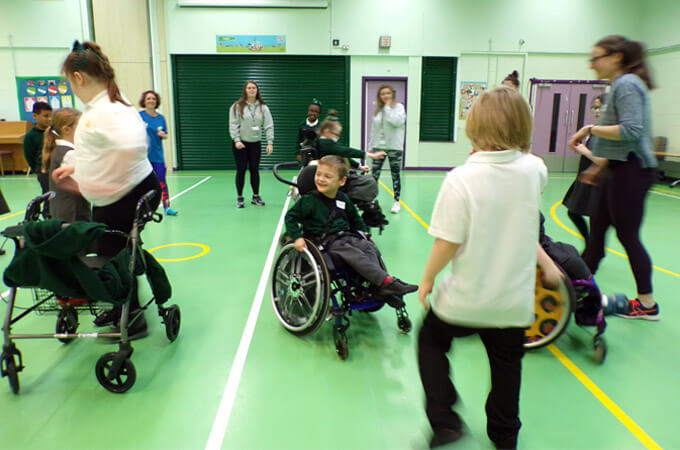 To find out more or refer a child or organisation who might benefit from The Brain Changer Arts Project, please fill out the form below and we'll be in touch. Alternatively, call our centre on 0151 298 2999 and ask for Christina.
If you're not local to Merseyside, you can find fun, free physiotherapy through dance video activities on our YouTube page.
In The Brain Changer Arts Project's first two years:
More than 60% of participants noticed improved mobility
Nearly 100% said their confidence improved as a direct result of the sessions
"This was a wonderful opportunity for our children to explore movement through creative play."

Staff at Everton Nursery
The Brain Charity also has staff based at Liverpool Women's Hospital to support pregnant women and new parents of babies with neurological conditions, genetic illnesses and brain injuries.