If you or someone you love has been rushed to hospital, life may feel very frightening.
The Brain Charity's Information & Advice Officers are based in four hospitals across Merseyside.
Our staff also support patients in other hospitals across the UK, and their families, via phone, video call and email.
How can we help
The Brain Charity is there to help patients and families come to terms with the impact of a sudden diagnosis.
This may be a traumatic brain injury, stroke, brain haemorrhage, brain aneurysm, brain tumour or any other neurological condition.
Our staff can tell you in plain English what your diagnosis means and what living with your condition might look like. They can help you apply for emergency funding for travel and toiletries (if eligible), welfare benefits and home adaptations.
The Brain Charity's officers also offer a listening ear. They can help you make calls to loved ones and organise other arrangements so you don't have to worry during your hospital stay.
They can also link you to our other services, such as counselling, support groups, and social activities.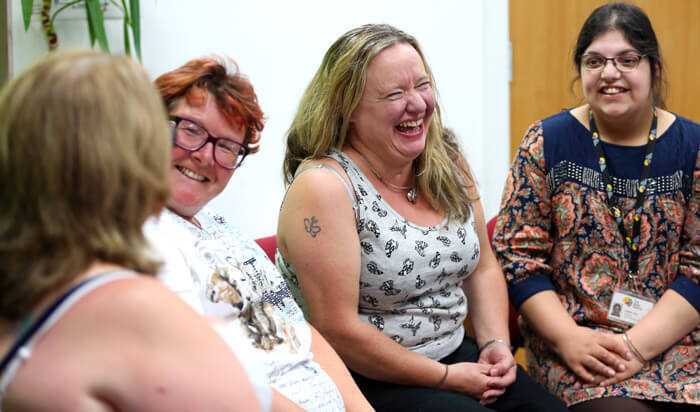 Please email us to speak to The Brain Charity's staff. Alternatively, ask your ward to put you in touch with us.
The Walton Centre
The Brain Charity has close ties with The Walton Centre, a specialist neurology and neurosurgery hospital which takes patients from across the North West.
Our Information and Advice Officers attend the wards every day to speak to patients. They also come to specialist clinics, including at the Sid Watkins Building for brain injury rehabilitation.
The Brain Charity's staff are available to speak to at our dedicated pod located inside The Walton Centre's main entrance. The pod is located opposite the main check-in desks and is staffed Monday to Friday, 9am-5pm.
Liverpool Women's Hospital
The Brain Charity has two outreach workers based at Liverpool Women's Hospital.
They support pregnant women and new parents of babies with neurological conditions, genetic illnesses and brain injuries. They can also refer families to our other services for children and young people, such as The Brain Changer Arts Project.
Royal Liverpool University Hospital and Aintree University Hospital
Our staff support patients with brain injury, stroke, dementia, learning disabilities and all other neurological conditions being treated within Liverpool University Hospitals NHS Foundation Trust.
This covers the Royal Liverpool University Hospital, Aintree University Hospital and Broadgreen Hospital.
Across the UK
The Brain Charity's staff also support patients at the Sedden Suite Rehabilitation Unit, located at St Helens Hospital.
Although our staff are not currently based in any other hospitals across the UK, we can still support you virtually in all the ways listed above.