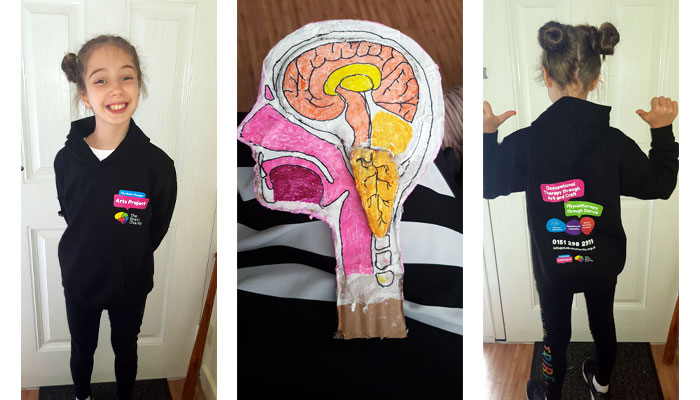 Faith's Chiari malformation story: "The Brain Changer Arts Project helps her love the physio she needs"
In April 2016, Sarah's daughter Faith was diagnosed with significant Chiari malformation – where the bottom of the brain pushes down on the spinal canal – aged just 4.
The youngster's balance was bad and when she had started at nursery, staff picked up on her speech difficulties so referred her to a specialist.
Faith, now 8, had four hearing tests before doctors sent her for an MRI test which revealed the condition, which is thought to affect about one in every 1,000 births.
Mum Sarah, from Toxteth, Liverpool, said: "I think doctors just sent Faith for the MRI to appease me.

"Obviously there was a fear there about what the diagnosis might be but I was also relieved because it meant we could now get Faith the help she needed."
As with many neurological conditions, the precise cause of Chiari malformation type 2 is not completely understood but it is thought to usually be present from birth.
Faith's symptoms include problems with balance and coordination, migraines, neck pain, memory loss and muscle weakness in her legs which flares up when she is too active.
Sarah first visited The Brain Charity in 2018 to get help from our Carers Advocacy team, who helped her liaise with Faith's school and explain her needs.
When the charity launched The Brain Changer Arts Project, which provides occupational therapy via arts and crafts and physiotherapy via dance to children of all ages, Faith couldn't wait to sign up.
Sarah said: "Normally Faith would try and get out of doing physio, as she sometimes struggles with it.

"But she was always so excited to do The Brain Changer dance sessions and didn't really notice there was physio involved – she was just enjoying herself.

"In PE at school she feels like she sticks out because she is less able to take part, but these workshops are catered to her and so never leave her behind."
As well as taking part in the physiotherapy through dance sessions, Sarah said Faith loved the craft sessions, designed to improve fine motor skills, too.
She added: "Being part of The Brain Changer Arts Project has just lifted her mood in general and made her more active.

"It is important to sing and dance about this great project in a way that other families like ours can hear about it.

"It really does make a difference for Faith and I want others to know this is out there for them."