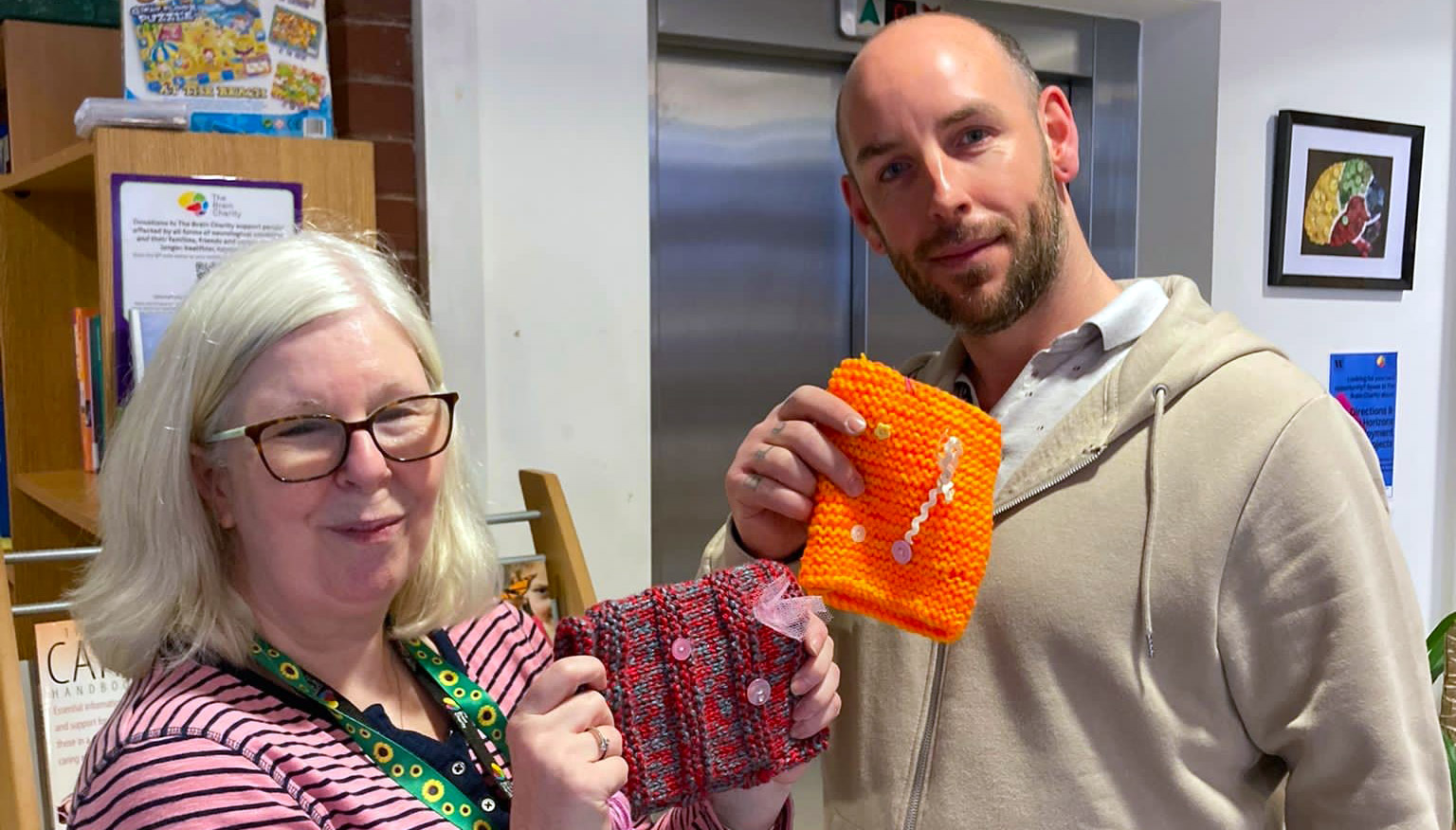 Donations swap supports Royal Liverpool Hospital dementia patients and Brain Charity clients
We received a Nintendo Wii Fit for clients in exchange for fidget mitts for The Royal's dementia patients
Here at The Brain Charity we are all about reciprocal help and partnerships. Here's another lovely example!
NHS worker Rob (pictured), who works at The Royal Liverpool University Hospital, popped into our centre recently.
During the COVID-19 lockdown, Rob started a Facebook page called Active Minds, because he noticed there was a need for hospital patients on the wards to keep their minds active, especially when visiting was restricted during the pandemic.
When Rob visited The Brain Charity's centre, he donated a Nintendo Wii Fit and plenty of games which we'll be using to set up a new regular Wii Fit activity session for our clients.
In return, our Knit and Natter group handed over a bag full of fidget mitts. These are colourful gloves covered in tassels and buttons which can provide stimulation and restore calm for people with dementia, autism and other neurological conditions.
Rob had requested more of these for the hospital wards via the Active Minds group, and now has plenty to distribute.
Brain Charity volunteer Amanda (pictured), who runs The Brain Charity's Knit and Natter group, said: "It really has been a pleasure to be part of something, I feel like I've contributed along with all our lovely people who are part of the Knit and Natter group."
Thank you Rob from The Brain Charity for your generous donation, and we hope the fidget mitts are helpful for patients at the Royal.
If you would like to take part in a weekly Wii Fit class at The Brain Charity, please email activities@thebraincharity.org.uk to register your interest.