Living with dementia can be frightening, isolating and often bewildering.
Music can play a vital role in the daily care for people living with dementia. It stirs memories, reduces agitation, stimulates endorphins and creates moments of joyful connection. But sometimes, it can be difficult to know where to start.
The Brain Charity's Music Makes Us! project provides speech & language therapy via engaging singing workshops, and physiotherapy through dance sessions.
Where can I take part?
Sessions, which cover useful exercises, practical tips set to lively songs from the past, are held in care homes and community settings throughout Merseyside.
Our team of singers, dancers, professional speech and language therapists and physiotherapists ensure all participants have a safe and enjoyable experience.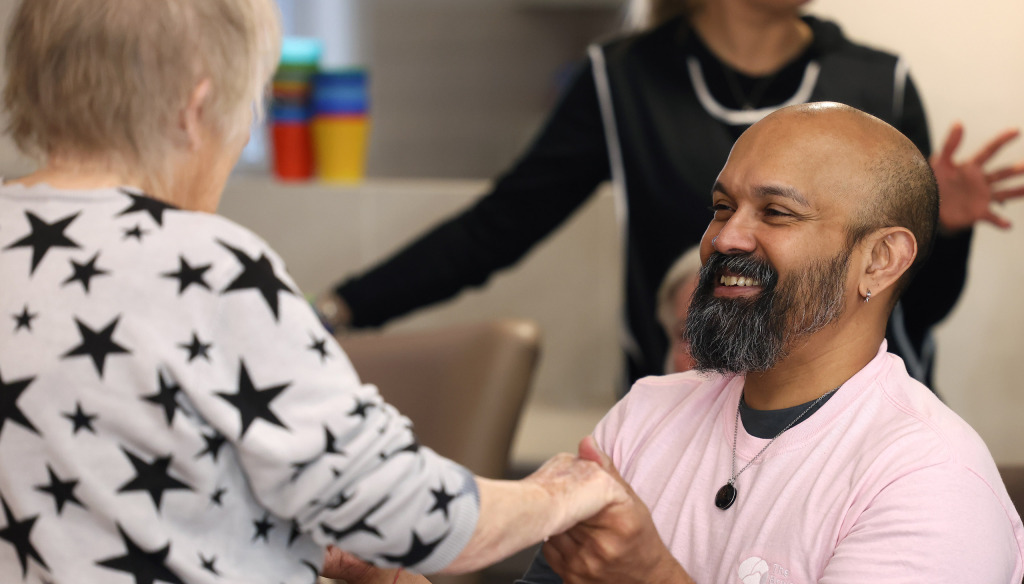 We have also created a free, online 12-week programme which can be accessed by anyone in the world via our YouTube channel.
How to join in
To sign up for the virtual video-based programme, complete the form below.
If you would like more information about the community workshops, or work at a care home and would like to discuss running sessions, please email kym@thebraincharity.org.uk
Sign up to Music Makes Us! Online
Register now to receive our 12-week dementia video programme.
You can choose to receive full weekly emails for carers or a simplified dementia-friendly version to go straight to the participant. The simplified version does not mention dementia. If you would like this, tick yes to 'receive non-dementia version' below.
Please tick the box below if you would also like to receive general news and updates from The Brain Charity.
Thank you to Quilter Cheviot Investment Management for making these music-based dementia therapy workshops in Liverpool possible.