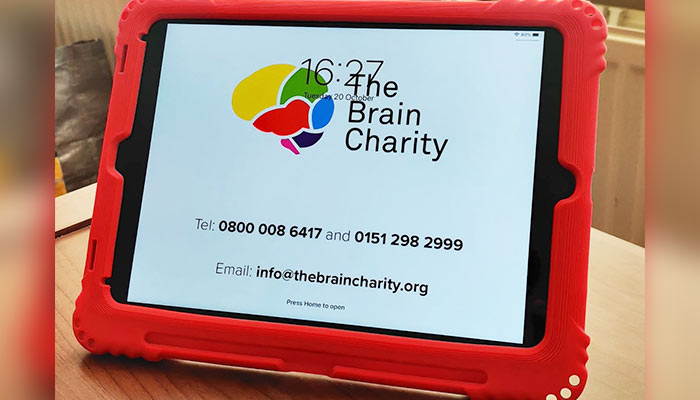 Supporting patients from their hospital beds during pandemic – thanks to iPads
Pioneering iPad scheme will support thousands of patients in four hospitals
Thousands of patients in four hospitals across Merseyside are set to be supported electronically by The Brain Charity via a pioneering iPad scheme.
Our new Virtual Patient Support Service is launching across The Walton Centre, The Royal Liverpool University Hospital, Aintree Hospital and Broadgreen Hospital this autumn. Dedicated hospital-based iPads will allow patients, and their carers and family members at home, to video call Brain Charity staff to discuss issues they may need help with during their hospital stay and after they are discharged – such as benefits, employment, housing and legal advice.
Specific wards and teams across the hospital trusts have been identified to pilot the service, with an initial focus on patients with acquired brain injury, stroke, learning disabilities, dementia, delirium and other newly-diagnosed neurological conditions.
The service will temporarily replace the previous in-hospital presence The Brain Charity's staff provided at The Walton Centre and Aintree Hospital, which was reduced in March due to COVID-19 visiting restrictions, and which had been due to be extended to The Royal and Broadgreen before the pandemic.
Jon Dobson, acting services manager at The Brain Charity said: "2020 has brought with it unprecedented challenges for The Brain Charity, as for all organisations.

The strain the global pandemic caused to the NHS meant our staff were no longer able to be physically present in hospitals to speak to patients at the point of diagnosis, as they had done previously and as we had hoped to roll out at more sites this year.

At the same time, we knew there was more demand for our services than ever before. So we are delighted this virtual support service will allow us to continue providing our much-needed free assistance to patients by harnessing video call technology."
It is hoped once infection control allows Brain Charity staff to return physically to all four hospitals, the virtual service will still run alongside this, allowing us to provide practical information and advice to more patients than ever before.
The technology for this project has been provided thanks to generous funding from our legal partners, Potter Rees Dolan.